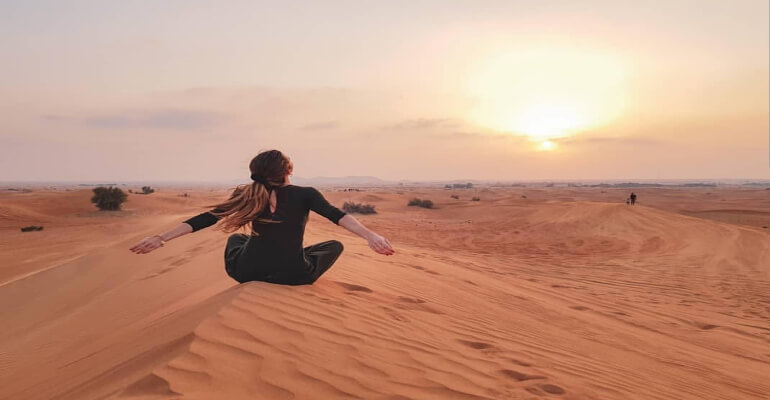 On

December 17, 2019

In Article
Tags:
No Comments
Get Ready for Three Hours Morning Desert Safari Adventure in Abu Dhabi
The morning desert safari gives you an opportunity to capture the beautiful moment of sun rising by standing on the sand dunes of approximately 1 kilometer high. It will depict the true beauty of nature. The rays of sun encroaching on the soft grains spread in gigantic deserts leave a magical feeling on your heart. It seems soothing and feast for eyes. Ultimately, you will feel full of energy and strong. Your dull and lethargic body cells will be automatically energized. The three hours morning desert safari will give you a chance to not only explore the nature deeply but also to experience the adventures joyfully. It is always a best choice whether you are coming with your friends or family. The morning desert safari tour is also beneficial for those tourists who cannot stay for longer duration or who cannot come for evening desert safari tours. The desert safari Abu Dhabi deals are available in just AED 90 per person that seems highly economical.
Following are some inclusion for your morning desert safari adventure in Abu Dhabi:
You will be picked up in 4×4 vehicles from your hotel or residence point around 9:00 am to explore the deserts in Abu Dhabi during day time.
The 45 minutes thrilling sand dune bashing session on sand hills in desert will electrify each and every cell of your body. Generally large SUV cars like Land Cruiser, Nissan Patrol and Jeep Wrangler are used for sand bashing sessions.
The unlimited refreshments, mineral water and soft drinks will satiate your thirst and refreshes you for next session.
The most famous sand sport "ATV Quad Biking" is usually liked by tourist. It is optional for tourist to avail this opportunity by paying some extra amount. The driving on sand mountains will give you jumps and bolts that will be a new experience for you.
Free hubblee bubblee shessha is the most liked fun activity in desert by backpackers. You can even enjoy different flavors for Arabic sheesha pipe of your own choice.
You will be entertained by the live dance shows and fire shows. The dancers wearing traditional white long dresses and performing Tanura dance will deliver an intense feeling of tranquility and Sufism on the audience. Bellay dance is very much popular among tourist.
The separate washroom facility for ladies and gents avoid you from many inconvenience.
The desert safari Abu Dhabi deals also include intercontinental BBQ buffet.
Surely, you will like to take various photographs during your trip that will become a part of your memory.
A short camel ride is mostly liked by all vacationers. However, camel ride is an optional choice for tourists. The ships like undulating ride on camel will double the adventure with photographs. The photos during your camel ride will remind you that beautiful moment whenever you will put a glance on them.
The tour guide will provide you complete information about your tour in the desert as well as about the culture, tradition and heritage of UAE.