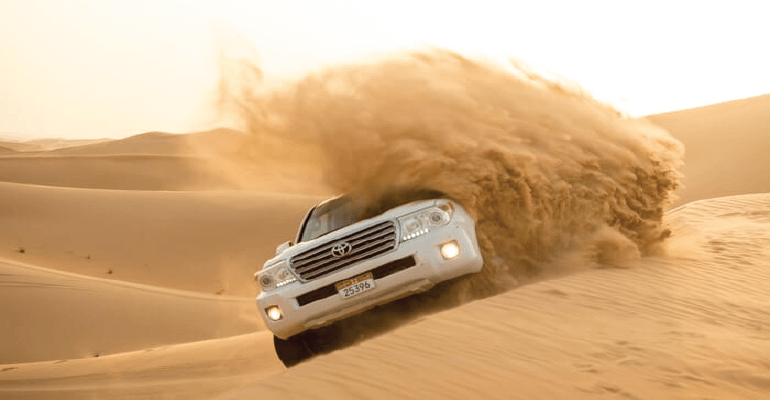 On

October 31, 2019

In Article
Tags:
No Comments
Best Time To Go To Abu Dhabi
Peak Season In Abu Dhabi
Between April and May or from September to October is the best time to visit Abu Dhabi. Spring and fall seasons are considered pleasant weather with a large number of crowds. For the best weather, not too hot and not too humid you should visit in the wintertime (December through March). Winter season in Abu Dhabi is peak season. If you're looking for the best prices, summer is your season.
Abu Dhabi Temperature
As the city's temp is very hot, tourists like to visit in the winter season. Because spring season are assumed pleasant for travelling towards Abu Dhabi. Spring time in Abu Dhabi is pleasant. Daily highs range from the low 80s to the high 90s and sometimes into the 100s depending on the month. Hotel rates are starting to less after the annual high tourist season.  There are many springtime events, several cultural festivals and sporting events. It is very difficult to spend summer in Abu Dhabi. Temperatures rest in the triple digits, and humidity levels are high despite small amounts of rainfall. But if you can bear the heat, you're bound to find some great deals on lodging during these months. Hotels routinely slash rates in half.
Autumn season starts to cool down the city's temperature to some extent. It begins to cool down Abu Dhabi with daily highs dropping from the 100s in September to the high 80s in November.
November to February is the peak season time of the year, the weather isn't too hot that it's uncomfortable but it's hot enough to draw in the crowds.
Flights to Abu Dhabi
Flights to Abu-Dhabi are difficult to find over in peak travelling months and you are best to book well in advance to secure any saving on your flight tickets. There is an annual event in January which will increase the prices of flights to Abu-Dhabi and accommodation, but also sees more tourists visit, making the city very crowded. Off Season: March to October brings extreme high temperatures that even the locals struggle to deal with, however it also offers the cheapest flights to Abu-Dhabi so if you can deal with the heat you can find a good deal on flight tickets. Even though the crowds are smaller it can still be hard to find cheap flights to Abu-Dhabi during this off-season so make sure you secure your flight tickets in advance.
Best Time To Visit Abu Dhabi
Your best bet is to book your flights to Abu-Dhabi as soon as you've decided that's where you want to visit. January and February typically offer the cheapest flights to Abu-Dhabi but you'll still need to book well in advance for the best offers. Flights are very expensive when any event occurs during holidays or New Year starting celebrations.   As Abu-Dhabi is a Muslim country, you should do a bit of research before moving to Abu Dhabi.
Abu Dhabi Weather
In terms of weather, winter is the best time to visit Abu Dhabi. Daytime temps rest comfortably in the mid-70s and low 80s — ideal conditions for exploring the emirate's top attractions or lounging on the beach. But you won't be the only one trying to take advantage of Abu Dhabi's prime conditions: Wintertime sees a large influx of tourists and conventioneers, so be prepared to fork over a hefty sum for a hotel room.
Places to visit in Abu Dhabi
Places to visit in Abu Dhabi are the Sheikh Zayed Grand Mosque. It is the major tourist attraction. Louvre Abu Dhabi is a stunning museum, which represents the entire history of humanity's artistic achievements. For the best views of Abu Dhabi's glittering skyscrapers, you need to head out onto the water.  Al-Hosn Fort, also known as the Old Fort or the White Fort, is the oldest building in Abu Dhabi.  Yas Island's latest theme park addition, Warner Bros World is dedicated to its cartoon, movie, and comic book heroes and villains with all rides based around these characters. Families visit to this place for enjoyment and fun activities.
Hotels in Abu Dhabi
Some of the popular hotels in Abu Dhabi are Emirates Palace Hotel Abu Dhabi, Laura White/Getty Images, Jumeirah at Etihad Towers, Hotel Four Seasons Hotel Abu Dhabi at Al Maryah Island, Rosewood Abu Dhabi and Yas Hotel Abu Dhabi.
Reserve Your Tour With Us
To get the best and most entertaining journey, do not forget to book with us today and enjoy all the features of Abu Dhabi. We claim to provide you the best travelling experience. It will not only surprise you but also be a wonderful experience. Abu Dhabi trip will leave a great effect on your mind ever.